The Huddersfield Narrow Canal runs for twenty miles from Portland Basin in Ashton-under-Lyne through the Pennines to the centre of Huddersfield. It is a waterway of startling contrasts with stretches of tranquil, well-wooded rural charm and industrial development - a reminder of the days when it was the shortest way of carrying goods and people between Lancashire and Yorkshire.
Today the canal is being fully restored to navigation and will be open again from April 2001. Meanwhile there are long stretches of the canal to enjoy, with canal boat trips, many attractions nearby and picturesque circular walks, both long and short.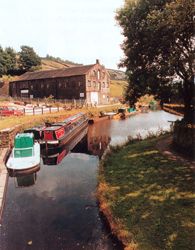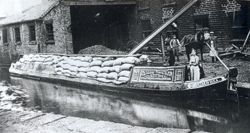 The canal was sanctioned by an Act of Parliament in April 1794 but it was not until 1811 that boats were able to cruise the full length of the waterway. This was mainly because of the cutting of the Standedge Tunnel (see below) through the Pennines.
A late arrival at a time when artificial waterways were making possible the Industrial Revolution, the canal was never a major success. The advent of the railways brought a much faster method of moving goods and canal traffic diminished to a trickle. In 1944, by Act of Parliament, the canal was closed to navigation, abandoned and forgotten.
The Standedge Tunnel is the longest, highest, deepest canal tunnel in the UK. It was originally completed in 1811, seventeen years after the canal works started. The tunnel, from Diggle to Marsden, is nearly 3 1/4 miles (5.2 km) in length and was an amazing achievement at a time when sophisticated equipment had not been developed and unpredictable explosives and human effort were the means of blasting through the Pennine gritstone.
Since the closure of the canal the tunnel has fallen into a state of disrepair with four major rock falls, a year's worth of dredging and much structural repair is required to reopen it.