Welcome to Saddleworth Canal boat hire and Cruises, the home of the Pennine Moonraker - the only narrowboat operating on the Uppermill section of the Huddersfield Narrow Canal.
Canal Boat Hire At It's Best. We Can now offer self drive holidays on our hire boats. Please contact John now for details & click on Canal Boat Hire to see our boats Dizzy and Caroline
Dizzy was seen on Locks and Quays
on 18th Jan 2007
NEWS
On the 10th April 2008, sadly our boat Dizzy was stolen from her mooring and sets on fire. The vessel was a complete write-off. The sad thing was I first restored Dizzy in the 90s with my late father. Of which I have lots of fond memories, so with all of that taken into consideration I decided to purchase the wreck back from the insurance company. With the help from Mr. Craig Fitch from CSF Welding, who constructed the superstructure of the new rebuild. And very close family friend Matt Marshall on the general fitting out, we are not far from completion, I hope to post some photos on the website soon.
Email
Payment now accepted by

"I would strongly recommend the Saddleworth canal cruises to anyone thinking about taking a canal boat hire holiday. The service was suberb its the best two weeks holiday my family and I have taken very relaxing"
Andy Mills, Birmingham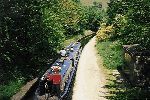 "After hiring canal boats for 15 years I can honestly say thay john and his team as second to none when it comes to service and knowledge of the canals. If your looking for an interesting and relaxing holiday then canal boat hire from Saddleworth canal cruises is the answer"
Andrew Felton, London
We have been operating on the Saddleworth canal hiring camal boats and organising holidays for several years and have built up a reputation for providing an excellent, entertaining and unique experience in a wonderful environment.
The Dobcross to Ashton section of the Huddersfield Narrow Canal reopened after 50 years on Monday 9th April, with the official ceremony taking place on Friday 18th May - see the News section for more information about this and the opening of the whole of the canal.
Pennine Moonraker
You will need Adobe Acrobat reader to view the booking forms
It Can be Download from
For Free
&copy Saddleworth Canal Cruises 2001
Site last updated 23rd April 2009